Our Services
B/H Drywall & Stucco Co. Inc., offers a multitude of finish work throughout the Phoenix, Arizona market.  When it comes to residential and commercial services, we pride ourselves in the quality of our product and workmanship in every project.   We have served the Valley with quality finishing services for over 40 years.  Our clients confidently call B/H because they know that we use only the highest grade materials available and it shows in our work.  The staple and core of our business is our impeccable reputation for residential stucco and drywall; a leader in Arizona since 1972.
High Quality Workmanship and Materials
Guaranteed Customer Satisfaction
What we do
 Residential Drywall, Stucco & Custom Homes
Drywall specialists in quality and special finishes, Arizona rooms, room additions, and remodels.
Expansion Joints
Tape On Cornerbead / Plastic Cornerbead / Metal Cornerbead / Archway Cornerbead / Bullnose Cornerbead
Gypsum Sheathing
Fire-rated Wallboard
Moisture-resistant Wallboard
High Density Wallboard
Fiberglass-Covered Exterior Drywall
Dura Rock /  Hardi Backer
Textures
Santa Fe
Random Skip Trowel
Orange Peel
Knockdown
Smooth Wall – Level 5
Stucco specialists in sand finish, custom finishes (EIFIS), trims, foams, and remodels.
3/8 Jweep, 1⅜ Weep Screed, 7/8 Jweep, 7/8 Weep Screed, and other Jweeps 3/8, 1/2, 3/4, 7/8, and 1″.
Wiretex – One Coat, Western One Coat, Cement, Lime, Plaster Sand, and Marble Sand #16, 20, 30, 60 in 100lb bags.
Sto, Dryvit and Synergy brand synthetics.
Black paper 1ply or 2 ply, Tyvek.
Regular bonder or acrylic bonder.
Foam various sizes and shapes.
Wire 4, 12, 18, 24 and 36″.
Lath staples: 7/8 and 1¾ Bostitch and Paslode, and Roofing nails 1½ thru 3″ and Tile nails 4, 5 and 6″.
Textures
Monterey
Spanish Lace
Sand Finish
Synthetics
Other Services We Provide
Replacements of Shutters, corbels, popouts, stucco repairs, custom foam shapes, custom finishes, or specialty trim.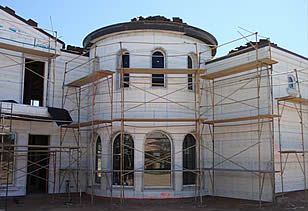 We pride ourselves in the quality we put into every custom home we build.  Drywall and Stucco finishing is an area of expertise that B/H takes abundant pride in. The challenges that accompany custom home building and finishing are unique. We know, we've been specialists in custom home finishing for nearly 40 years. During that time we have built lasting relationships with the most respected names in Arizona residential home building.
Just a few of our recognized clients:
Amberwood Homes
David Weekly Homes
Toll Brothers Inc.
V.I.P. Homes
Rosewood Homes
Fulton Homes
William Lyon Homes
Woodside Homes
Mattamy Homes
Ocotillo Construction
KB Homes
A & J Companies
Ashton Woods
Starlight Homes
Homes By Towne